High-quality KamadoClub cold smoking generator will give the food a special taste! Put the wood dust in the generator, light them with a candle and leave to smoke in the KamadoClub grill. Place the desired products (such as meat, fish, cheese, and more) on the grill and close the grill lid. The process has begun!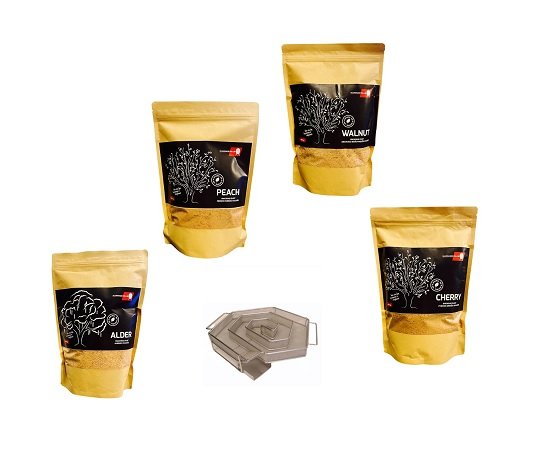 Cold smoking set 2 KamadoClub:
Cold smoke generator KamadoClub
Alder cold smoking dust 450g
Peach cold smoking dust 450g
Walnut cold smoking dust 450g
Cherry cold smoking dust 450g
Discover new flavors by mixing different wood dusts for cold smoking.
IMPORTANT:
Cold smoking does not cook food, which means that it is essential to ensure that the food is salted or brined properly to avoid decay and bad bacteria. The whole point of cold smoking is to infuse flavor into the food, and to preserve it for longer storage time. The aim isn't to cook the food.
Ideally, cold smoking is best done in the autumn and spring months when the air temperature is below +5C degrees. If you can't wait for cooler weather, smoke at night or early in the morning when temperatures are lowest. Avoid hot summer weather (above +15C) or very low minus winter temperatures (below -10C).
Some of the best foods for cold smoking include pork, fish, bacon, sausages, game, cheese, beef, fruits.
Specifications
Cold smoking
Yes
Manufacturer
KAMADOCLUB
Photo is for Your guidance only and item colour or visual appearance can be slightly different.