KamadoClub PRO 2 is groundbreaking news in the Lithuanian market of kamado grills! The latest generation of barbecue with a patented "soft close" system, which consists of hinges that hold more than 90% of the weight of the lid and a durable lock that opens the grill with just one click. With the slow landing system, the lid will never fall over again and hit the body with full force, it will lower slowly and close quietly with just one touch. The handle and side shelves have been upgraded to a durable, maintenance-free, high-quality, heat-resistant HDPE plastic that, even after several years of intensive use, still looks like new without any effort.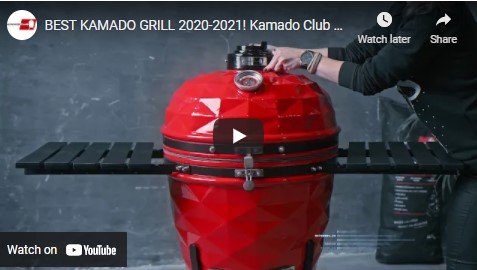 KamadoClub PRO 2 is a new design grill that will meet the expectations of even the most discerning gourmet. The perfect lid slow lowering system, the enlarged top lid has expanded the cooking volume, making it even more convenient to cook large pieces of meat, even several chickens at once or, when a group of best friends drops by, lots of meat / fish / vegetables with extra grill elevation. An extra-strong, environmentally durable, heat-proof resistant and grease-proof fibreglass gasket will increase the enjoyment of baking. The new premium grill thermometer will add precision to perfect dishes. Updated 5-section HDPE side shelves and front handle!
KamadoClub PRO 2 is an exclusive clay grill with its original DiamondCut exterior design, red colour and, most importantly, free accessories. When you purchase KamadoClub PRO 2, you immediately receive a complete BBQ miracle, the queen of the yard, which will expand your gastronomic abilities to the moon and back. Your kitchen equipment will cry, will miss you, you will start storing cooking textbooks in the oven, and the microwave will remain just a bad memory from the past. KamadoClub PRO 2 is not just a luxury grill that requires spending a fortune, like a young girl who just can't get enough new shoes. When you purchase KamadoClub PRO 2 grill, you receive free extras for more than 200 euros: a two-zone cooking system with a two-crescent heat deflector, a rain cover, a pot holder, tongs for lifting the hot grate and an ash removal tool!
Thermometer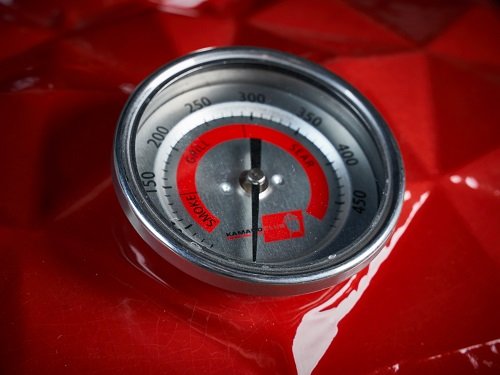 The updated, premium quality, original KamadoClub thermometer shows the temperature inside the grill particularly accurately and clearly. You will constantly see the temperature at which meat, chicken, fish, vegetables or other dishes are cooked or smoked.
Two-Way Top Valve
High-quality, two-way, upper valve allows effective control of temperature and air flow. The fully open function maximises airflow circulation for extremely high heat cooking at high temperatures on charcoal grate or pizza for baking. The KamadoClub top valve is made of corrosion-resistant materials, so it will always look flawless, even when used in extremely harsh conditions, for example, when raining and snowing.
Firebox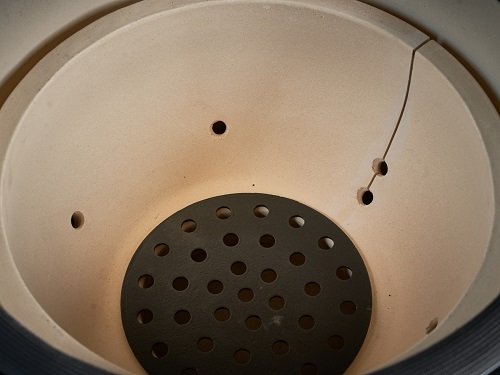 The firebox is a very important component of KamadoClub PRO 2. The high-quality ceramic firebox will withstand extremely high temperatures, so you will be able to prepare various dishes without fear of the temperature reached! Active use of fireworks (especially for commercial purposes) results in a high probability of firewall decomposition. And it's no secret, our KamadoClub PRO 2 firebox is made according to the latest technology, so we can safely say that it is a high-quality part of the grill. The quality is reflected in our 2-year warranty paid to individuals and compliance with warranty obligations. For legal entities who will use the grill for commercial purposes, we can offer a 1-year warranty for the firebox!
HDPE Shelves for KamadoClub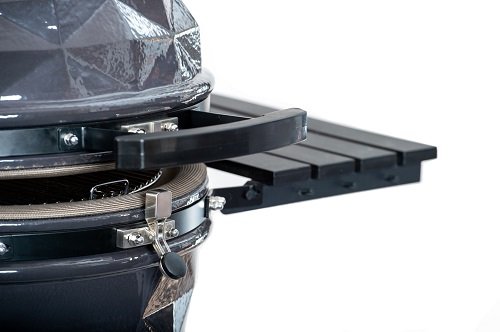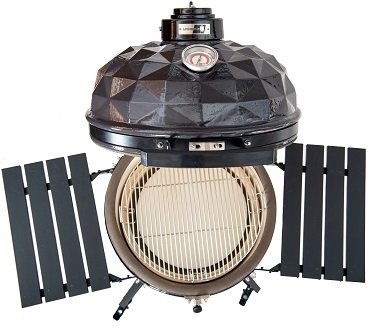 When preparing various BBQ dishes, you need to have a place to store dishes, containers, liquids, knives and other necessary items. This often requires a table. The KamadoClub PRO 2 grill has comfortable side tables that can easily hold the most necessary accessories, and if you need to cook and bake in one place, the KamadoClub team can offer you various grill tables impregnated with organic oils and beeswax, suitable for direct contact with food and at the same time with a particularly high resistance to the effects of the atmosphere. Finished cooking? Just fold both table tops down. They are so comfortable!
Fibreglass Gasket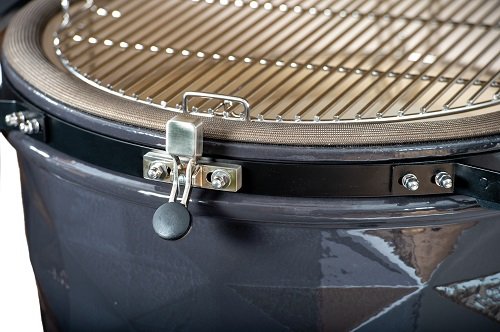 KamadoClub takes care of its customers and their grills, so it wants to offer only the highest quality products. One of them is a fibreglass gasket in the KamadoClub PRO 2 model. It is an gasket that has extremely high quality standards. Heat-resistant, non-flammable and resistant to temperatures up to 540 C. The gasket component is made of steel, so this gasket is resistant to any mechanical damage and minimises air leakage, whereas your grill will become much tighter.
Your 5 KamadoClub PRO 2 gifts! Would you like to find out what you receive when you purchase a KamadoClub PRO grill? See below:
Dual zone grilling system (gift No.1)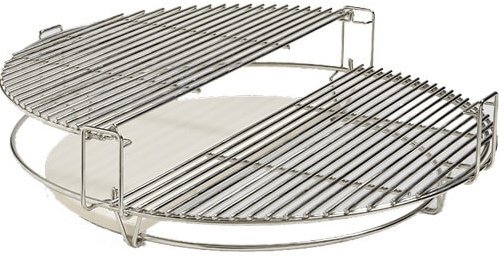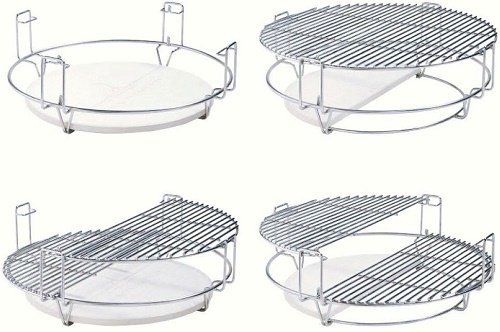 High quality KamadoClub dual zone grilling system. The multifunctional baking system will allow you to cook at different temperatures, at different heights at the same time! This cooking system will replace your usual cooking grill. Thanks to the half moon cooking grill, you will be able to create different baking surfaces: that of direct heat and indirect heat. The two-part grill and the multi-stage stand will give you a variety of cooking options and make cooking easier. With this system, you will no longer need a heat deflector.
Grill cover (gift No.2)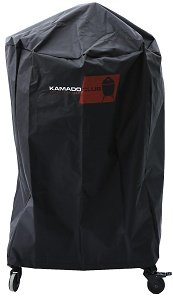 Quality KamadoClub grill cover. With the help of this cover you will be able to protect the grill from external negative factors.
Grill Grate Tongs (Gift No.3)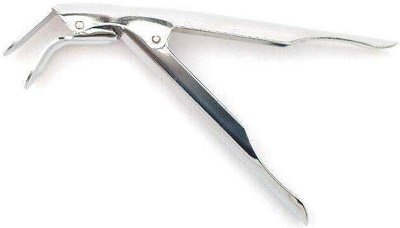 Comfortable and light KamadoClub stainless steel tongs. These tongs will ensure a safe way to remove the heated grate.
Ash removal tool (gift No.4)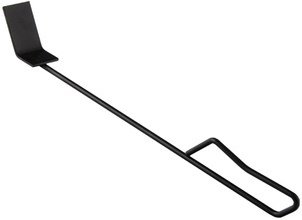 The universal KamadoClub ash removal tool will make it easier to maintain your grill. The tool is designed to remove the ash from the grill.
Pot holder (gift No.5)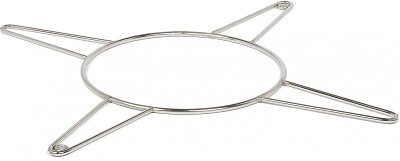 26 cm diameter pot holder!
Missing accessories and gifts?! No problem! Choose the right KamadoClub PRO 2 accessory for you:
Electric grill igniter Club Lighter

Grill tool set, 2 pcs

Rib rack PRO / PRO 2

Chicken grilling stand

Heat resistant gloves

InkBird IBT-2X digital wireless food thermometer

Digital wireless food thermometer ThermoPro TP-20

Digital food thermometer ThermoPro TP-06S

Digital wireless food thermometer ThermoPro TP-07S

Birch lumpwood charcoal

Two-side KamadoClub PRO / PRO 2 smooth-surfaced cast iron grate

Half moon KamadoClub PRO / PRO 2 cast iron grate

Ash catcher PRO / PRO 2

Smoker box KamadoClub

Flat baking stone, 38 cm

Cold smoke generator

Grill table PRO / PRO 2

Pizza shovel

Marinade injector

Grate cleaning brush

Silicone baking mats

Smoking tube

Half moon KamadoClub heat deflector

Whiskey barrel chunks for smoking
Looking for the right cast iron pot for your PRO 2 grill? Choose from the following accessories:
Cast iron kazan, 8 l

Cast iron kazan, 6 l

Cast iron pot with lid-pan, 6 l

Cast iron stewpot, 8 l

Cast iron pot with lid, 5 l

Cast iron kazan with lid-pan, 6 l

Cast iron kazan with lid-pan, 8 l

Cast iron kazan with lid-pan, 10 l

Cast iron kazan with lid-pan, 12 l

Tatarian cast iron kazan with lid BIOL, 12 l
Looking for the right cast iron pans for your PRO 2 grill? Choose from the following accessories:
Cast iron frying pan, 16 cm

Cast iron frying pan, 20 cm

Cast iron frying pan, 25 cm

Cast iron pan with handle, 28 cm

Cast iron WOK pan, 28 cm

Cast iron WOK pan, 30 cm

Cast iron WOK pan with wooden tray
Specifications
Manufacturer
KAMADOCLUB
Diameter
59 cm
Baking grate diameter
48 cm
Multifunctional two-zone cooking system
Yes
Cover
Yes
Ceramic heat deflector
Yes
Tongs for grate
Yes
Ash removal tool
Yes
Grill legs
Yes
Colour
Red
Grill weight (including package)
120 kg
Package dimensions
HxWxD: 90 x 77 x 77 cm
Slow landing system "Soft Close"
Yes
Photo is for Your guidance only and item colour or visual appearance can be slightly different.