In order to smoke high quality cold food, you need exclusive oak barrel dust. Oak dust is perfect for beef, pork, poultry or fish products. Oak barrel dust is filled into a special, spiral-shaped cold smoking generator. Place the food on the grill and the generator filled with oak dust on the bottom of the grill (do not use charcoal). Ignite the dust - it must burn. Leave the KamadoClub valves open with about 1 cm gaps. The lid must be closed to give the food as much smoke and colour as possible!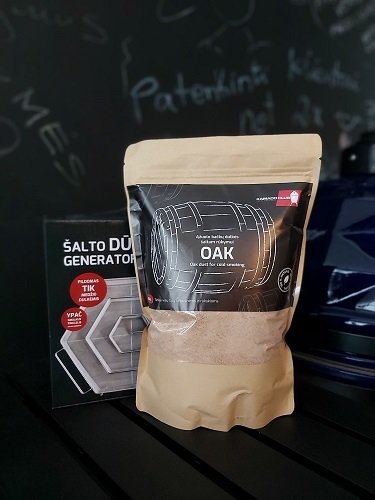 Oak barrel dust features:
Oak wood
For cold smoking
450g
Specifications
Cold smoking
Yes
Manufacturer
KamadoClub
Material type
Oak wood
Weight
450g
Package dimensions
HxWxD: 24 x 18 x 7 cm
Country of origin
Spain
Photo is for Your guidance only and item colour or visual appearance can be slightly different.