Uzbek quality cast iron pots are perfect for cooking a variety of dishes. During cooking, the food does not stick due to the polished inner cast iron surface. These cauldrons can be heated to high temperatures and, with proper care, can last a life time.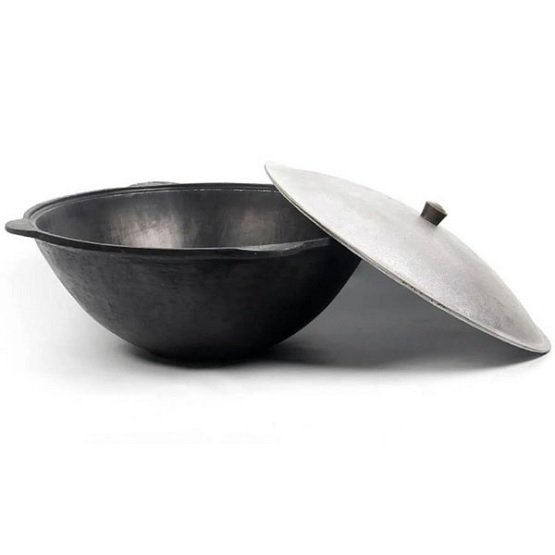 The cast iron kazan with a lid features:
8 litre capacity
37 cm in diameter
42.5 cm between handles
15 cm height
High quality cast iron
Durability
Good heat retention
Aluminum lid with plastic handle
Compatible with and may be used on: a gas stove, induction, electric, or ceramic hobs and, of course, on the KamadoClub grill!
INSTRUCTIONS FOR PREPARATION OF CAST IRON POTS AND PANS:
Bake the pot / pan at 200 C for about 1 hour with salt (2 kg or more), stirring several times.
Cool the cast iron pot slightly and add warm water to the salt, scrub with the mixture cast iron pot/pan.
Wash thoroughly with a soft sponge.
Repeat the washing procedure 3 times.
Then drain and rub with oil (it is best to use flaxseed oil). Preheat to 200C. The pot / pan is ready for use.
*After each cooking, wash with warm water, do not use aggressive detergents, drain and rub with oil.
Specifications
Pre-seasoned
No
Suitable for KamadoClub PRO/PRO 2
Yes
Diameter
37 cm
Dimensions
H x W x D: 15.6 x 42.5 x 42.5 cm
Material type
Cast iron pot / alluminum lid
Weight
9 kg
Capacity
8 litres
Country of origin
Uzbekistan
Photo is for Your guidance only and item colour or visual appearance can be slightly different.